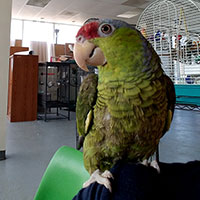 Location:
The Greater Chicago Cage Bird Society (formerly GCCBC) is located at 317 S. Ardmore Avenue, Villa Park, Illinois, 60181.
We are a 501(c)3 organization...Nonprofit. Our phone number is 630-640-4924 . You may leave a message 24/7, though we may not always have the ability to return calls immediately, we usually will within 24 hours. For a quicker response, please contact us on Facebook.
PLEASE NOTE:
We are now open daily BY APPOINTMENT ONLY.
Please call 630-640-4924 or message us on Facebook.
Appointments available most days between 10am and 2pm, with exception of SPECIAL EVENTS.
Volunteers may report at 10 am, 7 days a week.
The Adoption Program takes in unwanted birds from several different sources and provides for their care at our Adoption/Rescue Center (shelter) in Villa Park, Illinois. The Adoption Decision Committee (ADC) sets forth the procedures for operation of the shelter within the bylaws of the society. All positions held within the society and rescue operation are filled on a volunteer basis. The society is able to assist these homeless birds only through volunteer work of its members and others who would like to contribute time and/or funds.
Surrendering a Bird:
We are currently at capacity
Email surrender@gccbc.org for more info or to get on our waiting list.
Are you unable to provide the care and environment that your pet bird requires? The GCC Bird Society understands that sometimes life changes occur and you find you can no longer care for your birds properly. Sometimes a particular bird has special needs that are more than you can handle. If you have tried to find a good home but are unable to, and you feel that there is absolutely no way you can continue to care for your pet and that it is in the best interest of your pet to find another home, we can help. The GCC Bird Society offers an adoption program for all types of cage birds in need of a home. If you have a species that we can not accept, we can advise of other organizations to contact.
For placement of birds into our adoption program, please call (630) 640-4924e-mail surrender@gccbc.org. Email inquiries are usually answered faster as they go directly to the bird intake team.

Also, please consider that our expenses are large in providing care for your bird; a donation at the time of surrender is required. *amount depends on individual situations and bird types. We survive on Donations!

Please note; vacancy varies..in the interest of providing the best possible care, we may limit intakes from time-to-time. We can possibly advise of other organizations that can assist, if we are unable to accomodate. Call us at 630-640-4924.
or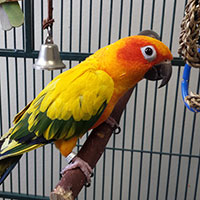 The Adoption Process:
The adoption process begins with an application and a visit to the shelter. There you will meet the birds and speak with us about the species you are interested in, your previous experience, and why you have decided to adopt at this time. If you do not already have a specific bird in mind, we can make suggestions. Visits are BY APPOINTMENT ONLY. We are available most days between the hours of 10am and 2pm.
Some, but not all, of our available birds are featured on Adopt-A-Pet and Facebook. You may also message us on Facebook or email us for more information before coming in for a visit.
An application must be fully completed for all adoptions and can be downloaded before your visit. An application does not guarantee approval. Applications are then reviewed by the Adoption Decision Committee who will determine eligibility. Eligibility is based in part, on our requirements having been met. This committee is compiled of volunteers who work closely with the birds in our care and are very familiar with the specific personalities of these birds. The decision process may take a few weeks. We want to ensure a good fit for both parties. During the process, we strongly encourage visits to the desired bird BY SCHEDULING A VISIT during our hours of operation.
Our rescue efforts incur many costs associated with providing proper care and medical treatment of our birds. In order to continue these efforts, we require an adoption fee, which should be viewed as a donation to continuing our efforts. Adoption fees vary by bird. Adoptions are local only. We do not ship birds. All fees are subject to change at the discretion of the GCC Bird Society.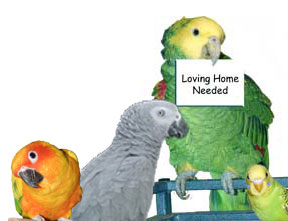 DOWNLOAD ADOPTION APPLICATION FORM
Ways to Apply:
See our available birds at Adopt-a-Pet
Visit us in person at 317 S. Ardmore Avenue,
Villa Park, Illinois, 60181
Email us at Adoption@gccbc.org
Visit us on Facebook Call us at 630-640-4924 for an appointment
General Requirements:
Many of the birds in our care come from neglectful or abusive past situations and can be very fearful initially. Once placed in a home and given understanding and time to adjust, many have become a wonderful addition to the family and have flourished.
Some situations may be more favorable than others for a particular bird in our care. This is always of utmost importance in the decision making process and it does not mean that if you are turned down for one particular bird, you may not be approved for a different bird, depending on environmental needs, etc. Certain requirements must be met before we will consider a perspective adopter.
We require:
a Home Visit, virtual or in person
What is a "virtual" home visit? We request that you send an mp3 or mp4 file type to adoption@gccbc.org which can be taken with a smart phone. Please include: entering the home, area where bird cage is (we want to see the cage if you have an existing one), tell us what the bar spacing/width and size of the cage is, where bird cage would be placed if you do not have one yet, areas in the home the bird will be spending time, and other pets in the home. We welcome including members of the family as well, and prefer that you talk us through the tour.

a completed application for adoption (we will NOT consider incomplete applications)

Demonstrated ability to handle the bird (depending on which bird applying for)

Proper cage and bar width requirements are met

A Veterinarian reference (exceptions may apply), preferably an Avian Vet. If you have no existing Veterinarian, write on the application that you would like our recommendations for the area in which you live.

Several "get to know each other" visits with the bird, particularly with larger species

Any other information requested by the Adoption Decision Committee that is appropriate in making a determination.

Experience with larger birds, if applicable. *Certain exceptions may apply.
These requirements are all in favor of placing our birds in the best possible situation for their individual needs so that they may thrive in a new home. Please see our Adoption Process section for more information.
New to Parrots?
All Parrots, even Budgies, require special care and consideration...please do your research before deciding to adopt a parrot. There are many different species and requirements vary. We usually do not consider first-time pet bird owners for large bird adoptions, unless certain criteria is met. We recommend that you spend some time volunteering with our organization in order to learn about bird personalities and care requirements. You can also learn more by reading this care sheet or visiting our Resources pages for informative links.
This article is particularly informative about bird behaviors: https://lafeber.com/pet-birds/bird-behavior/
Species Fun Facts:
Did you Know?
Parrots are lactose intolerant...they cannot have dairy products.

There are 350+ different types of parrot in the world.

Macaw's have an average life-span of 60+ years, some have reached over 80 years old!

Amazon parrots are one of the best talkers but if you adopt an Amazon, keep in mind, they have the needs and mentality, as well as the intelligence of a human toddler. Their average lifespan is 60+ years.

Budgies (parakeets) are parrots.

Parrotlets are the smallest parrot species on Earth

The Quaker Parrot is the only nest building parrot in the world. Quakers are also sometimes known as the Monk or Grey-Breasted Parakeet and are natives of Brazil and Argentina.

Parrots are members of the order Psittaciformes, which includes more than 350 bird species, including parakeets, macaws, cockatiels and cockatoos, according to the Integrated Taxonomic Information System (ITIS).