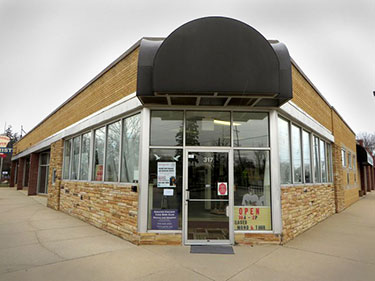 Location:
The Greater Chicago Cage Bird Club (GCCBC) Adoption and Rescue Center is located at 317 S. Ardmore Avenue, Villa Park, Illinois, 60181 (click image for map)
We are a 501(c)3 Organization...Nonprofit.
Our phone number is 630-640-4924. You may leave a message 24/7, though we may not always have the ability to return calls immediately, we usually will within 24 hours. For a quicker response, please contact us on Facebook.

HOURS Open to the Public:
11 AM - 1 PM, every day, except Thursday (closed to public). You may also schedule an appointment time...please call us or visit our Facebook page.

*Volunteers may report at 10 am, 7 days /em>
The Adoption Program takes in unwanted birds from several different sources and provides for their care at our Adoption/Rescue Center (shelter) in Villa Park, Illinois. The Adoption Decision Committee (ADC) sets forth the procedures for operation of the shelter within the bylaws of the club. All positions held within the club and rescue operation are filled on a volunteer basis. The club is able to assist these homeless birds only through volunteer work of its members and others who would like to contribute time and/or funds.

The Adoption Process:
The adoption process begins with a visit to the shelter to meet the birds and speak with us about the species you are interested in, your previous experience, and why you have decided to adopt at this time. If you do not already have a specific bird in mind, we can make suggestions. Our public hours are 11am to 1pm daily except for Thursday, or by appointment.
Some, but not all, of our available birds are featured on Adopt-A-Pet and Facebook. You may also message us on Facebook or email us for more information before coming in for a visit.
An application must be fully completed for all adoptions and can be downloaded before your visit. An application does not guarantee approval. Applications are then reviewed by the Adoption Decision Committee who will determine eligibility. Eligibility is based in part, on our requirements having been met. This committee is compiled of volunteers who work closely with the birds in our care and are very familiar with the specific personalities of these birds. The decision process may take a few weeks. We want to ensure a good fit for both parties. During the process, we strongly encourage visits to the desired bird during our hours of operation, 11 am - 1 pm.

Our rescue efforts incurr many costs associated with providing proper care and medical treatment of our birds. In order to continue these efforts, we require an adoption fee, which should be viewed as a donation to continuing our efforts. Adoption fees vary by bird. Adoptions are local only. We do not ship birds. All fees are subject to change at the descretion of the GCCBC.

If approved, the applicant can then schedule a pick-up time with one of our shelter staff for the adopted bird.
DOWNLOAD ADOPTION APPLICATION FORM
Ways to Apply:

See our available birds at
Adopt-a-Pet

Visit us in person at 317 S. Ardmore Avenue,
Villa Park, Illinois, 60181
Email us at Adoption@gccbc.org
Visit us on Facebook
Call us at 630-640-4924 for an appointment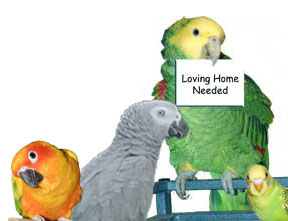 General Requirements:
Many of the birds in our care come from neglectful or abusive past situations and can be very fearful initially. Once placed in a home and given understanding and time to adjust, many have become a wonderful addition to the family and have flourished.
Some situations may be more favorable than others for a particular bird in our care. This is always of utmost importance in the decision making process and it does not mean that if you are turned down for one particular bird, you may not be approved for a different bird, depending on environmental needs, etc. Certain requirements must be met before we will consider a perspective adopter.

We require:
a Home Visit, virtual or in person
a completed application for adoption (we will NOT consider incompleted aps)
Demonstrated ability to handle the bird (depending on which bird applying for)
Proper cage and bar width requirements are met
A Veterinarian reference (exceptions may apply), preferrably an Avian Vet.
Several "get to know each other" visits with the bird, particulary with larger species
Any other information requested by the Adoption Decision Committee that is appropriate in making a determination.
Experience with larger birds, if applicable. *Certain exceptions may apply.
These requirements are all in favor of placing our birds in the best possible situation for their individual needs so that they may thrive in a new home. Please see our Adoption Process section for more information.

New to Parrots?
All Parrots, even Budgies, require special care and consideration...please do your research before deciding to adopt a parrot. There are many different species and requirements vary. We usually do not consider first-time pet bird owners for large bird adoptions, unless certain criteria is met. We recommend that you spend some time volunteering with our organization in order to learn about bird personalities and care requirements. You can also learn more by reading this care sheet or visiting our Resources pages for informative links.



Surrendering a Bird:
Are you unable to provide the care and environment that your pet bird requires? The GCCBC understands that sometimes life changes occur and you find you can no longer care for your birds properly. Sometimes a particular bird has special needs that are more than you can handle. If you have tried to find a good home but are unable to, and you feel that there is absolutely no way you can continue to care for your pet and that it is in the best interest of your pet to find another home, we can help. The GCCBC offers an adoption program for all types of cage birds in need of a home. If you have a species that we can not accept, we can advise on other organizations to contact. For placement of birds into our adoption program, please call (630) 640-4924 or e-mail adoption@gccbc.org.Please consider making a donation at the time of surrender. We survive on Donations!
Please note; vacancy varies..in the interest of providing the best possible care, we may limit intakes from time-to-time. We can always advise of other organizations that can assist, if we are unable to accomodate. Call us at 630-640-4924.



Boarding Your Bird
We offer boarding services within our facility and do our best to accomodate your birds special needs.

Current 2017 prices per cage per DAY: Small = $7, Medium = $10, Large = $15
(all prices subject to change)
Advance reservation required. Please inform staff of any special needs. Call us at 630-640-4924.



Volunteer!!! We need you!
Email: volunteer@gccbc.org
There are many people willing to work with dog and cat rescues, but unfortunately, the volunteer participation with pet birds is very minimal. As a non-for-profit organization, we rely solely on the care and help of our volunteer staff. Our organization is ALWAYS in need of extra hands to provide for our birds daily care.

Requirements:
Experience is NOT required to volunteer with us...only a desire to learn about the proper care of exotic birds, willing participation in the necessity of proper cleaning of our birds cages and shelter, and the ability to follow procedures as set forth by our Adoption Decision Committee and Board of Directors of GCCBC. The benefit is the friendship you will form with these comical and special creatures as well as the satisfaction of helping a parrot to stay safe and healthy while we seek their new forever home.

You will need to complete the Volunteer Application; (special requirements are involved for minors who wish to volunteer)...download the form. Bring the form into the shelter when you are able to start or email: volunteer@gccbc.org.

We especially value those who can commit to a regularly scheduled day(s). However, we welcome any available time you may be able to donate. Once you complete the Volunteer application form, we can train you on whatever day you choose to come in. Please contact us by email first if possible, so that we may be prepared in advance for your training.

The Daily Shelter Manager or other experienced volunteers will provide basic training your first day. The Manager of the day oversees shelter operations and ensures proper procedure is being followed. The manager is usually a member of the Board of Directors or an Executive Officer of the club. (These positions are completely voluntary as well).

If you have a desire to become more involved in an active role, we welcome fresh faces in our Shelter work and Club educational programs and invite you to become a member. You will always be welcome to become a part of our team!

In addition to our sincere gratitude for your help, we offer a few perk programs...new to our organization this year. One is our Parrot Perks Program. You are eligible upon completion of daily work to receive an entry into a monthly raffle of a $25 gift card as a small token of our appreciation for all that you do. For details, see our poster in the sign-in area at the shelter.

There is also an annual Appreciation Pizza Party with prizes for our volunteers, held in the fall...date to be determined, and we welcome our Volunteers to attend our Annual Holiday Party in December.

Thank you for your interest in working with these marvelous, intelligent creatures...we hope to meet you soon!